---
Pharmaceuticals | Epoxy resins | Fertilisers | Petrol and diesel | Esters, fats and oils
The new London specification for AS and A2 (first exams in January 2001 for AS)
The new specification (i.e.syllabus) contains sections on Applied Organic Chemistry; the changes from the previous syllabus are:
the chemistry of epoxy resins has been deleted (relief all round);
the chemistry of petrol and diesel is confined to the advantages or otherwise of gaseous and liquid fuels, and to environmental points concerning fuels (AS unit 2);
pharmaceuticals and fertilisers remain and are in unit 5 (A2);
there is a new section on esters, fats and oils in unit 5 (A2).
The present London syllabus (last exams in January 2002)
Section 23.2 of the Edexcel scheme deals with a number of applications of organic chemistry, some of which are not easy to find in textbooks. So here they are! You will find articles on this page concerning
Pharmaceutical compounds are increasingly designed to target particular receptors in tissues, based on known molecular structures. The compound is 'recognised' by the target tissue.
Molecular recognition employs structural features called pharmacophores, that are often similar to structures found in natural materials. An example is salbutamol, used as a bronchodilator to alleviate the symptoms of asthma. Noradrenaline is the natural bronchodilator, but it also increases heart rate and blood pressure. Salbutamol does not.

Noradrenaline Salbutamol
The pharmacophore in these molecules is the structure: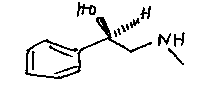 The content of the Edexcel syllabus is much simplerthen this; compounds forming H-bonds with water, because of polar groups for example, will be retained in watery tissue; so will salts, such as the anions of organic acids. Covalent compounds will favour fatty tissue.
Sorbitol, a sugar, will therefore be excreted readily since it has -OH groups which render it readily soluble in water; methyl mercury (CH3)2Hg is much more toxic than mercury(II) chloride since it is covalent and will be retained in fatty tissue or readily pass across fatty membranes.
No detailed knowledge of particular pharmaceutical compounds is expected.
---
Organic fertilisers. The principal advantages in organic fertilisers are:
the slow release of nitrogen to the soil
that fertilisers such as urea have a high proportion of nitrogen by mass
that there is no immediate change in soil pH when the fertiliser is applied.
This contrasts with inorganic fertilisers such as ammonium nitrate and ammonium sulphate. These have a rapid action but for osmotic reasons can cause burning and foliage decay in some plants.
Urea has the disadvantage, also shown by inorganic fertilisers, that there can be rapid leaching from soils due to its high solubility. This can cause problems in waterways.
'Natural' fertilisers such as 'hoof and horn' or dried blood do not share these defects, but are obviously impractical or undesirable for widespread use.
---
Epoxy resins.
Epoxy resins employ a smallish 'pre-polymer', itself a polymer, which is subsequently cross-linked into a hard, strong, glass-like and chemically resistant polymer by the addition of a hardener.
The most widely used epoxy resin is prepared from the following compounds by condensation polymerisation:

An excess of the epoxide monomer is used so that an epoxy group is left at each end of the pre-polymer chain.
The low molecular mass pre-polymer is of the form

where: is shown as:

Before use the pre-polymer is mixed with the hardener, which is a diamine or a diamide, which then forms strong cross-links between the pre-polymer chains:
Such epoxy resins have no natural stickiness, so the bonded parts need support whilst hardening occurs. This can take 24 hrs or more.
---
Petrol and diesel.
Petrol (gasoline).
Two properties are of interest: the volatility and the octane number.
Volatility:
the vapour/air mixture must be correct for the engine
in cold weather the vaporisation is difficult so a volatile fuel is needed; in hot weather too volatile a fuel leads to vaporisation in fuel lines and consequent vapour-lock which starves the engine of fuel (and can be dangerous if the engine stalls)
petrol blends are altered four times a year; the colder the climate, the more volatile the hydrocarbons needed.
Octane number (RON):
this measures the tendency of a fuel to auto-ignite (see below)
2,2,4-trimethylpentane (iso-octane) has a low tendency to auto-ignite and is given an octane number (RON) of 100
heptane auto-ignites easily and has an octane number of 0.
the octane number of a fuel is the percentage of 2,2,4-trimethylpentane present in a mixture of 2,2,4-trimethylpentane and heptane that has the same auto-ignition characteristics as the fuel concerned
unleaded fuel is 95 RON, i.e. equivalent to 95% 2,2,4-trimethylpentane and 5% heptane
the octane number of 'straight run gasoline', i.e. immediately off the fractionating tower, is 70.
the fuel is uprated using isomerisation, reforming and cracking.
Isomerisation:
This uses a Pt catalyst followed by separation and recycling of unchanged material. Thus pentane (RON 62) can be converted to the branched-chain isomer 2-methylbutane with RON 93.
Reforming:
This uses a Pt/Re catalyst (maybe £5 million worth in one reformer) which can convert alkanes to cycloalkanes, and cycloalkanes to aromatics. Thus hexane (RON 25) can be converted to cyclo-hexane (RON 83), cyclo-hexane to benzene (RON 106), and methylcyclohexane (RON 70) to methylbenzene (toluene; RON 120).
Cracking:
Heavy oils (C30 – C40) are heated over a catalyst in a fluidised bed, which gives
alkane to branched alkane + branched alkene
alkane to smaller alkane + cycloalkane
cycloalkane to alkene + branched alkene
alkene to smaller alkene
The conditions and the nature of the catalyst are varied to give the desired products.
Auto-ignition or pre-ignition.
the fuel-air mixture is compressed rapidly in the cylinder and gets hot; the compression ratio (the ratio of maximum minimum gas volumes in the cylinder) in a petrol engine is between 8:1 and 10:1
the mixture may catch fire because of the heat generated by this adiabatic compression; or because of residual heat in the cylinder which is greater if solid products of incomplete combustion are present in the cylinder;
this auto-ignition is intentional in a diesel engine, but in a petrol engine leads to ignition before the spark: pre-ignition, knocking or pinking
this reduces engine performance and causes damage to the engine, because the piston is still travelling upwards when the early explosion occurs;
diesel engines are built to withstand the extra stresses arising from the higher compression ratio - that's why they're noisier.
Solving pre-ignition:
by the use of additives; the commonest is tetraethyl lead, Pb(C2H5)4, a colourless, covalent liquid; this is thought to prevent the radical reactions which lead to pre-ignition;
however the products from the exhaust are toxic, and waste lead; lead destroys the catalysts designed to reduce nitrogen oxide and carbon dioxide emissions;
the favoured route is to blend the fuel with aromatic and branched-chain hydrocarbons as an alternative since these have higher resistance to pre-ignition - RON 120 for methylbenzene;
some unleaded fuels may be as much as 40% aromatics;
alternatively alcohols can be used, for example methanol or ethanol, which also have the effect of reducing the inlet temperature;
residual cylinder temperature can be reduced by using a better thermal conductor for the cylinder block - aluminium, for example.
[Thanks to Christopher Cassano for extra information on this topic.]
Diesel.
Diesels use a heavier fuel, C15 – C 19, that is intended to auto-ignite
hydrogen is used to remove the sulphur from diesel, sulphur dioxide emissions having been a problem in the past.
diesels are very economical to run but expensive to buy, because the comprssion ratio is high (about 26:1) and the engine is more substantial because of the greater stresses;
the fuel is similar in price to unleaded petrol
there are worries about small particulates from diesel exhausts, so new diesels have exhaust filtration systems.
---
---